Our Solution
Methodology Overview
We understand that in today's competitive world, lead generation is not only about stand alone lead generation services. While we excel in all channels of pure lead generation, we additionally bring to the table, deep insight about the industries, markets, the end-consumer behavior, a rich database of C-level executives' contacts and experience in guiding business get a foothold and grow in a new market.
Our methodology is based on the solid foundation of insightful research. Our in-house team has an ear to the ground in all markets that we are present in. Additional inputs are constantly sought from our network of partners across the globe, our India based market research back-office and third-party research. Our consultants study the client's needs, and jointly prepare a solution strategy encompassing marketing and branding, staffing, logistics, project management and, of course, the lead generation aspects.
Our consultants constantly monitor progress of the execution and step in to fine-tune the strategy if required. Specifics of the Lead Generation methodology are described following the figure below.
Overview of PSD Global's Solution Methodology
Lead Generation Methodology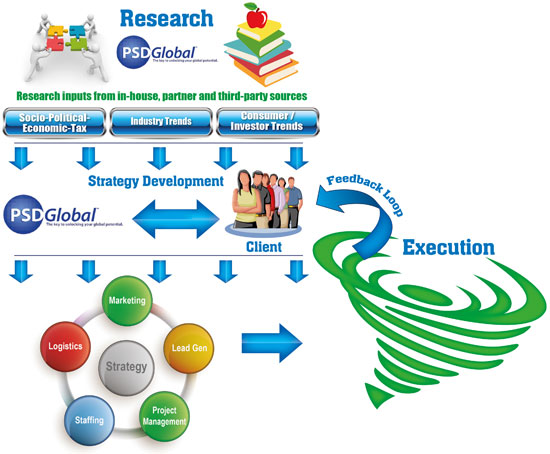 Expertise and Experience
We are the market leading firm in Lead Generation. Our combined experience spans over 250+ years of executing successful lead generation solutions for over 75+ EDA and Corporate clients.
Global Network
Headquarted in the USA, we have footprints in multiple countries across North America, South America and Europe. We have our own offices in the USA, UK, Brazil and Germany while our partner network spreads across much of South America and Europe