Global Development
PSD Global's Global Development Offerings: Delivering Sustainable Change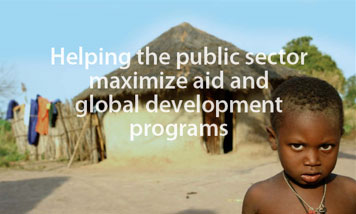 Global aid is an effective tool to deliver improved quality of life to the economically weaker sections of population across the world. The quantum of Global Aid programs is large – over USD 135 billion in 2009 – and increasing but not every dollar is used efficiently because of difficulties in designing and delivering aid programs. PSD Global is a premier consultancy, advocacy and technical assistance firm that helps Governments, Global Development and Multilateral agencies, NGOs and private sector charitable trusts identify, design and deliver development programs that are effective in bringing about meaningful and measurable improvement in the lives of Aid recipients. The goal of PSD Global's efforts in the area of global development is to bring our economic development and business experience to developing countries. By uniquely including business practices and applying proprietary methodologies to create effective development programs, PSD Global offers solutions second to none.
| | |
| --- | --- |
| Download our brochure on Global Development | Download our Corporate Capability Statement |
PSD Global's Offerings
PSD Global's Global Development practice comprises of team members with cross-functional expertise across multiple aspects of Global Aid program design, implementation and management. This is further bolstered by deep understanding and contacts across Governments, multilateral aid agencies, NGOs, local communities and professional firms across much of the countries we operate in. Our regional expertise extends across the following geographies:
Africa
Eastern Europe
South America
South East Asia
Our Global Development practice offers consulting, program implementation and management and training services that cover the entire spectrum of activities involved in the successful implementation of Aid program's objectives.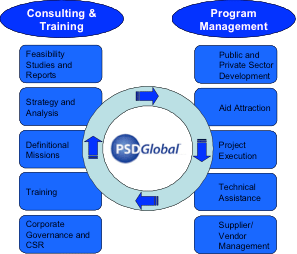 Consulting and Training Services
Feasibility Studies and Reports: We provide detailed and comprehensive feasibility studies and reports in order to evaluate a proposed Aid project. Our team of cross-functional experts will evaluate the feasibility of proposed projects on their stated financial, economic, technical and social objectives. Economic development, foreign investment studies as well as private sector development analysis reports are among our specialties.
Strategy and Analysis: This service covers a wide range of analytical studies designed to enhance effectiveness of Global Aid programs. Some of these include the following:

Evaluation of Aid/funding needs/potential of Country/sector/community
Evaluation of effectiveness of existing Aid programs in meeting its stated objectives and recommendations for improving the programs
Design of new Aid projects for targeted sector/communities
Construction of roadmaps for Aid programs over a period of time for a particular sector/ community
Design of Aid program management and governance processes

Definitional Missions: We work with all stakeholders to evaluate potential projects on their financial, economic, technical and sociological aspects and identify potential projects for an agency's funding consideration as part of a Definitional Mission. In-country visits ranging from a few weeks to months are offered as part of this program.
Training: We provide training programs to equip members of local communities with new vocational and employment skills in order to improve their means of income and enhance effectiveness of a Global Aid programs. We work closely with Aid/funding organizations to identify and deliver training programs to the community in focus. PSD Global also offers these training programs via the web.
Corporate Governance and CSR: We work with Aid-receiving organizations and groups within the local community to set up a corporate governance structure that meets the donor's transparency and governance criteria. In addition, we work with private sector corporate donors to set up a charitable trust and identify projects for their funding considerations, and manage the project(s), if required.
Program Management Services
Private Sector Development: We work in the capacity of a partner with multilateral aid agencies and governments of developing economies to develop their private sector. Some of the specific work we do includes the following:

Design and implementation of innovative pilot projects to demonstrate business potential for new private enterprises
Incubation and guidance of new ventures during their set-up and start-up phase
Securing investments and technology transfer from the developed countries
High level business matchmaking with potential partner firms in the developed countries for established private sector enterprises to develop an export market
Advisory services for drafting government policies for development of its private sector and encouraging exports
For the private sector in Eastern Europe (Balkans), we have a strong practice that helps companies set-up presence/build their business/export to the EU zone markets. Please visit our Market Entry and Trade Promotion pages to read more about these services.
And much more

Public Sector Development: We have a strong Public Sector development practice. We have an experienced team that experts in their field and are supported by consultants in your region. Our expertise is specifically in the area of IT enabled governance. We will help establish a strong infrastructure for IT enabled governance and help Governments run modern, efficient and cost-effective governance systems.
Aid Attraction: One of our successful practices where we partner with governments, industry bodies, local community leadership and NGOs in developing countries for securing Global Aid to the communities. We prepare a report detailing the need for Aid, proposed usage of funds, local stakeholder commitments, legal and logistical support of local stakeholders and so on and present it to multilateral aid agencies, Government aid agencies, NGOs, charitable trusts and private donor community for project approval.
Project Execution: Our team of multi-disciplinary experts design, develop, execute and manage one-off or on-going Aid projects on behalf of project sponsors. We can execute projects independently or in collaboration with funding agencies. Besides possessing the requisite technical, financial, organizational skills, our team also employs sophisticated project management tolls and processes in order to provide detailed and frequent project progress and management reports.
Technical Assistance: PSD Global, along with its partner firms, provide comprehensive technical assistance for implementation of an Aid project on behalf of either donors or recipients. We provide technical assistance in the fields of governance and policy making, as well as for solving technical issues involved in specific industry/sector projects.
Supplier/Vendor Management: We work with donor agencies for the efficient management of their (international and local) suppliers and vendors working for a project. We manage every stage of supplier management – supplier selection, evaluation, classification and development – in order to ensure that your project receives its supplies at the desired quality, quantity, cost and schedule.
PSD Global Difference!
With an expansive global network, international expertise and local market knowledge, PSD Global leverages experience across all our divisions to make your international Aid projects a success – as quickly as possible. But don't take our word for it. Just ask our many satisfied clients who have faced international expansion challenges just like yours.
Global Network: Whether a potential Aid recipient wants to meet the president of a Canadian charitable trust or a multilateral aid agency wants to provide economic aid to a village in Madagascar, PSD Global has the right team and network of contacts to enable this. From Europe, Africa and the Asia-Pacific to North and South America, we maintain a strong local presence in order to best help clients achieve their goals – as quickly and effectively as possible.
International Expertise: Every member of the PSD Global team has lived and worked in countries other than their own – and holds multiple nationalities. And, with our regional approach and focus on local recruiting, we can provide real international solutions. Most importantly, we understand the intricacies and local culture of each country and can effectively apply this knowledge to a client's strategy.
Cross-functional Experience: We know that international aid projects do not exist in isolation. That is why all of our divisions share information – and expertise. For example, if our Global Development Division is working with an aid organization in Brazil, we may already have valuable contacts with companies being assisted by our Private Sector Development Division. By sharing knowledge and leveraging experience, we can maximize results across all divisions.
Unparalleled Understanding of Local Markets: When clients enter a new market, they need a partner who knows the local region. With a diverse team encompassing local on-the-ground experience in more than 150 countries, PSD Global brings an unparalleled understanding of regional customs and business practices – to give clients the best chance of success.
Experienced Team: All of our team members and partners hold an average of 25 years of related work experience, speak multiple languages and have built success for numerous clients. This means you can be sure that your project will always be led by an experienced and seasoned professional who has only one goal in mind – your success. And, with most of our projects coming in through referrals, you know you're in good hands!
PSD Global works closely with in-country companies and individuals to leverage local talent and expertise, while at the same time bringing our own experience and network of experts to every project. Our deep understanding of local communities in Africa, Latin America, Caribbean, Eastern Europe (Balkans), Southeast Asia and extensive experience in managing programs on behalf of multilateral agencies makes us a partner that will ensure the maximum effectiveness of your Global Aid and Development programs! Examples of some of the multilateral agencies that we have successfully partnered for executing their Aid programs include:
The World Bank
United States Agency for
International Development (USAID)
EuropeAid
CIDA
Australian Government's Overseas
Aid Program (AusAID)
African Development Bank
Department for International
Development (UK)
Asian Development Bank
Inter-American
Development Bank
United Nations
Development Programme
International Finance
Corporation
Caribbean Development
Bank
Italian Ministry
of Foreign Affairs
European Bank for Reconstruction
and Development (EBRD)
German Agency for Development
Industries Served