International Trade  consultant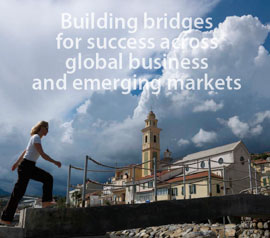 Unilateral trade liberalization has been one of the prime economic developments of the recent decades resulting in accelerating trade volumes between the developed and emerging economies, and global economic growth. Developed economies, which account for over 60% of the world's GDP, constitute key markets for the high growth emerging economies. However, as the world recovers from the economic crisis of 2008, international trade paradigms are changing, the goal posts are shifting. Consumers in the developed markets are demanding higher quality products and services at lower prices, while the governments are increasingly maintaining a strong protectionist stance. In such an environment, government trade agencies and enterprises in emerging economies need the services of professional trade promotion firms to help with fine tuning trade policies; developing contacts with government decision makers, enterprises (trading partners) and market influencers; publicize their markets and enterprises; train enterprises on regulations, laws, market trends, evolving consumer preferences and business etiquettes of the target markets; and conduct mutually beneficial negotiations over trade contracts. PSD Global is amongst the world's premier trade promotion firms, offering end-to-end trade promotion and consultancy services to the markets of North America, South America, European Union, Middle East, Africa and Asia.
PSD Global's End-to-End Trade Promotion Offerings
PSD Global's Trade Promotion practice offers a service spectrum that caters to every need of government trade agencies and local enterprises seeking to build trade linkages in target markets. We are the specialists in trade promotion programs with 150+ years of combined experience of delivering successful trade promotion programs for over 50 global trade agencies! We have extensive experience in promoting international trade for EDAs in North America, South America, Europe, Africa and Asia-Pacific regions.
Our trade promotion services are broadly divided into Policy Guidance, Promotions and Market Entry Support services as depicted below. Please hover over each service for brief descriptions of recent successful engagements executed by PSD Global.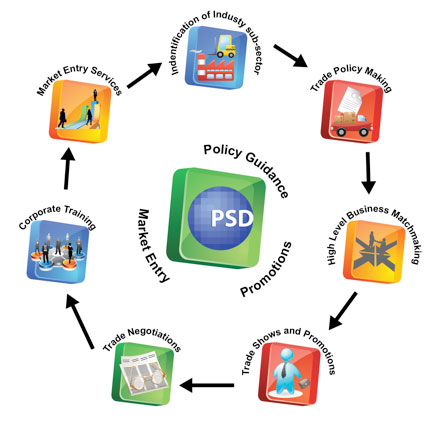 Policy and Trade/Export Strategy Guidance
Aiding Governments build effective external trade promotion policies and strategies for each target country
As international trade grows in volume, so does the complexity involved in formalizing trade agreements between governments. We believe that in today's complex economic and international trade environment, each host and target countries, and target markets, require tailored strategies for the success of trade promotion activities. Our strong research infrastructure comprising of in-house economists across the Americas, EU, Middle East and Asia, proprietary information database, and subscription to third-part research ensures that we are always on top of emerging trends in the target country's economic, business, regulatory, trade policy and legal environment across multiple industries. PSD Global works with your government or agency on developing correct trade promotion strategies!
Aided by inputs from our research infrastructure, our consultants study the client's needs, and provide the following:
Customized research analyzing the current structure and the forces (macro-economic, business, intellectual property laws, regulatory, technological, competitive, changing customer preferences) shaping industries of interest in the target country market
Identification of host country's industry sub-sectors and enterprises fit for conducting international trade with partners in target country
Identification of policy initiatives (tax incentives, subsidies, reduced paperwork etcetera) to enable these enterprises develop competitive advantages
Identification of key enablers, and contacts in the trade agencies and corporate sector of the target country for conducting negotiations
Other Export related factors that will help you increase the exports of your private sector
All other trade related aspects of private sector development
Trade Promotion Activities
Aiding Governments and host country's private sector to effectively create a high level of excitement amongst target country's potential trading partners
We offer highly effective trade promotional activities that go beyond mere organization of trade shows. We chalk out, jointly with the client, a tailored trade promotion strategy based on the profile of host country industry and enterprises and the extent of trade that already exists between the host and target countries. Once the promotional strategy is formalized, we deploy our team of experts in executing the strategy and carrying out promotional activities. These include the following:
Organizing business matchmaking and buyer – seller meets and events in multiple countries, i.e. USA, Brazil, Germany, Canada and UK
Build connectivity amongst host and target countries' entrepreneurs and SMEs
Build connectivity between target country's influencers – trade and industry bodies, media, consumer advocacy groups, academic organizations and lawmakers – and host country's entrepreneurs and SMEs
Manage and answer trade leads and export – import enquiries
Provide in-market representation for trade bodies and companies in international markets
Set-up physical office and web presence of the trade body
Conduct high profile and targeted trade shows, conferences and events
Organize and conduct incoming trade missions
Conduct other lead generation, advertising and branding exercises as identified in the promotional strategy
Market Entry Services for Exporters
Aiding and managing all trading and business activities of private sector enterprises of a host country in their international trade with target country partners
We go beyond executing trade promotional activities and help host country entrepreneurs and SMEs manage the entire activities involved in starting a new trade relationship with target country businesses – ranging from corporate training on host country legal, taxation, regulatory and customs requirements; aiding in drafting new export contracts with target country businesses and helping them with the entire activities in setting up a business subsidiary in the target market (if required) and managing the subsidiaries' activities. Please read about our highly acclaimed market entry services here.
There are two ways PSD Global can work with your companies for market entry and export promotion:
1) Company direct export program – PSD Global works with individual companies on their market entry strategy and helps them with all aspects of international sales and marketing. From venture funded growing companies to Global 1000 corporations, PSD Global can help these firms expand their profitability abroad.
2) Group export programs/Incubators: PSD Global works with governments, associations or groups of companies on market entry for an entire grouping of firms. This can involve setting up joint offices in business accelerator centers we run with our partners or can include export readiness programs such as planning, traning and strategy implementation. Whether we help one company or 50 from your country expand their international reach, PSD Global has conducted programs for decades that you can benefit from.
Strong Local Market Focus – Across the Globe!
Headquartered in the USA with offices across the global, PSD Global is well positioned to meet the needs of our clients across North and South America and Europe as well as Asia and Africa through our associate offices. Our local offices enable us to offer the personal touch we're known for, with our expert associates providing sector- and industry specific expertise and valuable contacts of regulatory bodies and the government, business partners, potential clients and investors.
In addition to own-office network across key global markets, we have a strong partner network globally.
Industries Served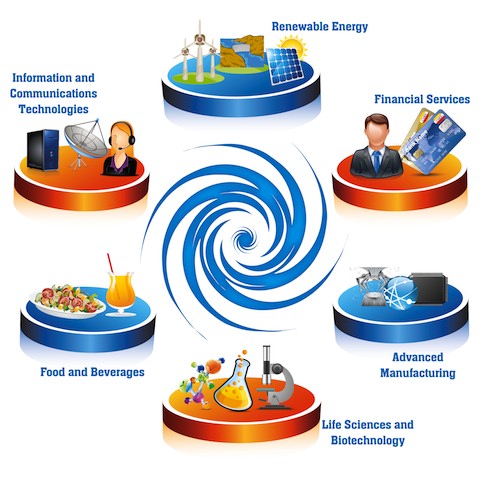 Getting Started with PSD Global
Getting started with PSD Global for your trade promotion efforts is as easy as sending an email to hq@psdglobal.com and requesting a proposal. We can begin helping your private sector companies export more and can offer many services quickly to start, including:
- Export University: Training (link to corporate training page)
- Export planning and strategy development
- Trade show services
- Trade missions and trips abroad
- Sales and marketing campaigns for exporting companies
- High-level business matchmaking
- Recruitment of companies for trade shows or seminars
- and much, much more!
PSD Global – STEP
In March of 2011, STEP, which stands for State trade and Export Promotion Program, was launched to work in conjunction with the National Export Initiative and administered by the U.S. Small Business Administration.. The STEP Initiative calls for double exports from the United States in five years and supporting the creation of two million jobs. According to the administrator of the U.S. Small Business Administration (SBA), Karen Mills, "Strengthening the nation's economy through a substantial increase of U.S. exports is a top priority for the government and the agency. This is a unique partnership between the federal government and the states. Sharing responsibilities and resources will help new small exporters across the country enter and succeed in the global market."
The program offers funding from the federal government for 65 to 75 percent of all program costs, with the individual states supplying the remainder of the costs. The funding goes toward supporting a number of critical export initiatives, including:
Foreign market sales trips
Foreign trade missions
Fees for website translation
Subscription services provided by the Department of Commerce
Trade show exhibitions
International marketing media designs
Participation in various training workshops.
For current information about the availability of grants in your particular state, click here (http://www.sba.gov/about-offices-content/1/2889/resources/14315) and scroll down to the bottom of the page for a map of the United States. Hold your cursor over your state to see how much in grant money is currently available.
Aside from the various states and the District of Columbia, the Commonwealth of Puerto Rico, the Virgin Islands, American Samoa, and Guam are all eligible for STEP grants.
While the first round of competitive grants was awarded in September of 2011, a second round of competitive STEP grants will be awarded in September of 2012, for performance during the period of October 2012 until September 2013. In the first round, 52 grants were awarded totaling approximately $30 million. For this second round of grants, projects will be prioritized that "target provision of assistance to 'eligible small business concerns,' that are owned and controlled by socially and economically disadvantages individuals, women, and by veterans and/or service-connected disabled veterans; are located in rural areas; promote new to market export opportunities to the People's Republic of China; and/or promote regional, industry focused, innovation clusters."
PSD Global provides a service to all states to aid them in managing their STEP grants (see the link here (http://www.sba.gov/about-sba-services/7367/25581) for more information on what these grants are and how to sign up to receive them), including providing services to the companies who are listed as recipients of the money. We provide assistance to businesses already in possession of STEP grants as well as interested parties wanting to identify what STEP grants they are eligible for and then coordinating the STEP process. We aid in proactively spending the STEP grants, including doing website translation and conducting overseas meetings with possible foreign investors. Other services offered include:
Lead generation and business development
Global development
Trade promotion
Market research and reports
Global training
Business partnership management
Branding management
Client servicing