PSD Global's Market Entry Offerings: Unlocking Your Global Potential

Overview
In today's world of increased economic connectedness and a steady lowering of trade barriers across countries, enterprises are constantly seeking to replicate their home-country success in newer geographies. However, each country's market is unique in its underlying economic, demographic, cultural, business etiquette and regulatory factors. Successful international enterprises often find that, despite investing millions, success is elusive in a particular country if they do not read the pulse of the market correctly. For international enterprises targeting to enter the North American, South American, European Union (EU) and/or the Asian markets, making PSD Global a key part of your international expansion strategy will prove to be one of your wisest decision! If you are an international firm looking to accelerate growth by expanding into the Americas, EU or Asia or multiple-new countries in these geographies, PSD Global has the network of contacts, proprietary methodology, market credibility and record of success necessary to accelerate your path to profitability and revenue growth.
| | |
| --- | --- |
| Download our brochure on Canada Market Entry | Download our brochure on Brazil Market Entry |
| Download our brochure on European Market Entry | Download our brochure on U.S.A Market Entry |
PSD Global's End-to-End Market Entry Offerings
PSD Global's Market Entry practice offers a service spectrum that caters to every need of an international enterprise planning to enter new country(ies). Each of the services is further tailored depending on the size of the entrant (SME, mid-sized or large Fortune 500 corporations), new market(s) of interest, product/ service portfolio and the target industry sector(s).
Market entry process of an international enterprise can be divided into 4 phases: Strategizing Phase, Business Set-up Phase, Business Development Phase and Growth Phase. PSD Global has a wide portfolio of services to cater to individual activities of each of these Phases, as depicted below: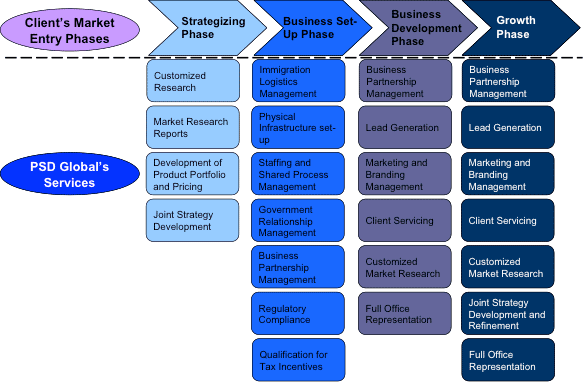 PSD Global can offer the entire end-to-end range of services to guide international businesses navigate market entry minefields successfully, or provide individual services for businesses that wish to engage services of the specialists for only certain sub-sets of overall activities. For instance, we can provide only Customized Research, Physical Infrastructure Set-up and Lead Generation services for clients based on their requirements.
Please click here to read about each individual service line here.
Strong Local Market Focus – Across the Globe!
Headquartered in Washington, DC with associate offices in Miami, Munich, New York, Toronto, Buenos Aires, Sao Paulo, Mumbai, Tokyo, Seoul and Melbourne, PSD Global is well positioned to meet the needs of our clients across North and South America and Europe. Our local offices enable us to offer the personal touch we're known for, with our expert associates providing sector- and industry specific expertise and valuable contacts of regulatory bodies and the government, business partners, potential clients and investors.
In addition to own-office network across key global markets, we have a strong partner network across much of South America and Europe.
Industries Served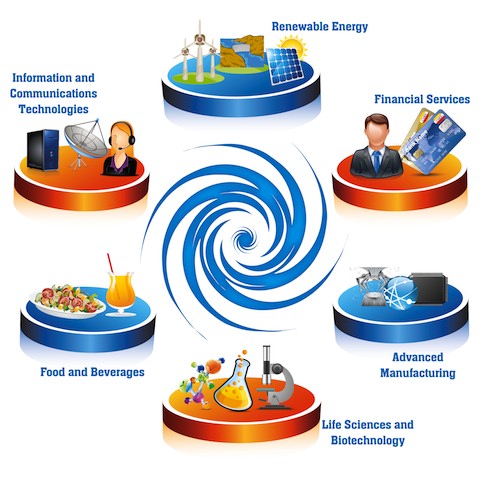 Strategy Development Methodology Overview
We understand that in today's competitive world, a business strategy that identifies, incorporates and accounts for a new market's major and unique characteristics, consumer, industry and competitive trends, pricing and positioning of the company's products and services is critical. We get if right every time, because we bring to the table, deep insight about the industries, markets, competition, the end-consumer behavior, a rich database of C-level executives' contacts and a rich experience in guiding over 1000 businesses get a foothold and grow in a new market.
Our methodology is based on the solid foundation of insightful research. Our in-house team has an ear to the ground in all markets that we are present in. Additional inputs are constantly sought from our network of partners across the globe, our India based market research back-office and third-party research. Our consultants study the client's needs, and jointly prepare a solution strategy encompassing the following:
Product Portfolio and Pricing strategy
Corporate, Operational and M&A strategy
PR, Sales and Marketing, Advertising and Branding strategy
Distribution and Supply Chain strategy
Staffing and shared process management strategy
Our consultants constantly monitor progress of the execution and step in to fine-tune the strategy if required, along with the clients.
Overview of PSD Global's Solution Methodology